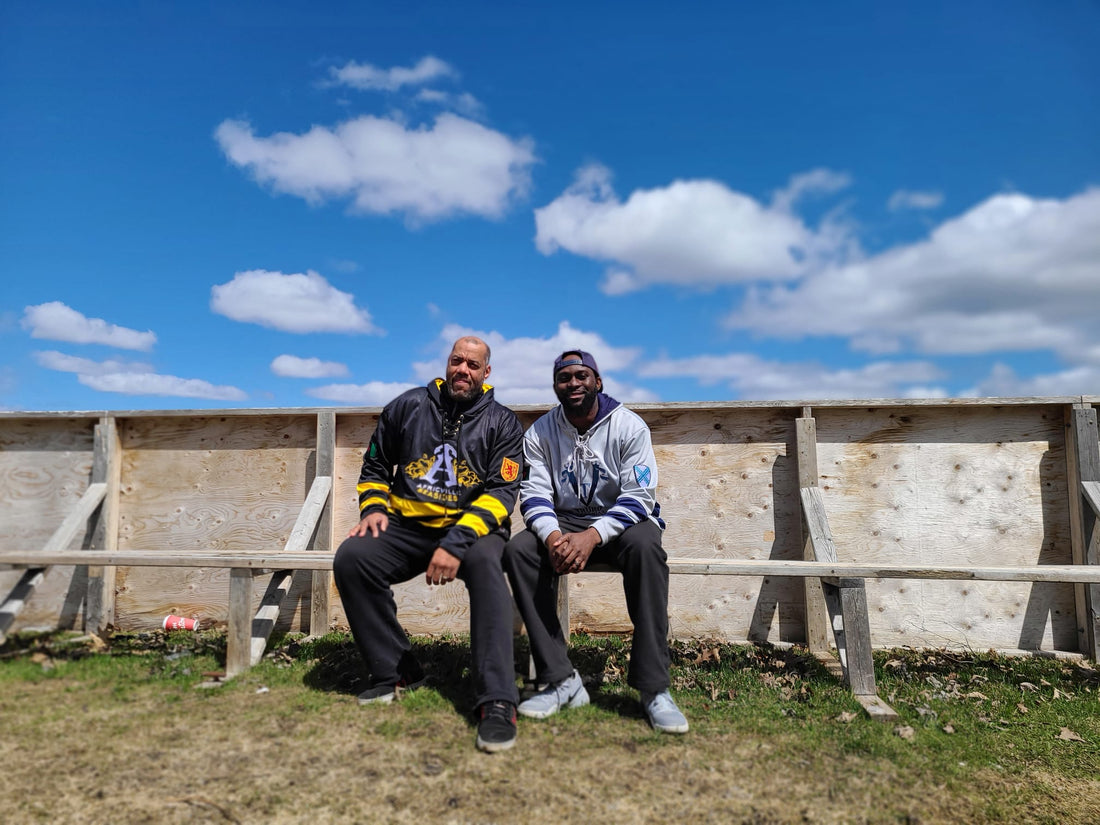 Living Legends: Graeme Townshend
Section
Drop element here!
Living Legends - Introducing, Graeme Townshend
It is not everyday you get the opportunity to chat with a hockey legend, but that's what happened this past Easter Sunday. But first, let me take you back to how this chance meeting happened.
Chance Meeting
I got an email from a potential customer who wanted to buy an Africville Seasides Jersey for her brother. I let her know we had sold out but we would be restocking in the next couple months. After exchanging some emails back and forth, she let me know that her brother Graeme was a former NHL Pro. Now, you could imagine how many light bulbs went off in my mind. So I googled him and sure enough, Mr Graeme Townshend turned up and one thing his sister didn't mention was the history he made. Graeme Townshend, raised in Toronto, was the FIRST Jamaican-born player in the NHL...like wow! The crazy thing is, I'm pretty sure you have never heard of him...right?. Well that in itself is a shame! Our own hometown hero, Caribbean-born, Canadian-raised, historic hockey legend has been right under our noses for decades. However, he is no longer one of hockey's best kept secret anymore!

After months of missed opportunities to connect with Graeme through his sister Laurie, she finally let me know that he would be in town for Easter. Now this time, I was not going to miss out and lucky for me, they were really close by. They were gracious enough to let us interrupt a special holiday with their mother and it was one of the most inspiring conversations I've ever had. What was so crazy about it is that we happened to walk to a nearby park which had a large empty rink that was recently drained....this is when I realized this meeting was not by chance, it was DESTINY. Now, I wish I could tell you all about our conversation but you would have had to be there because there is no way I could do any justice to telling his amazing life story. But what I could do, is tell you a little bit about this hockey legend!
Graeme and his sister Laurie
Kingston Born, Toronto Raised
Graeme was born in Kingston, Jamaica and relocated to Toronto at the age of 3. He grew up in North York and got his first taste of hockey at the age of 5 when he joined his friends in a pick up game. From there, he says he was absolutely obsessed with the game. So much so, that he begged his mom to buy him a hockey stick which only costs 99cents back in the day. The more he played, the more competitive he got. He said he remembers staying out hours at pick up games way past his curfew. In chatting, he recalls one night where he and his childhood friend were out late playing hockey, both scared to go home and because they knew their moms would be ready and waiting to deal out some serious punishment. Sure enough, he walked into his home, trying his best to sneak up to his room but not before his mom pulled out the belt (good old fashion Caribbean discipline). It was amazing to hear about his experience going up in Toronto in a Jamaican home and finding hockey as his sport, a rare situation for a young black kid. As a kid, I didn't play hockey and neither did any of my friends but Graeme somehow found hockey in an environment that wasn't always welcoming. With that, Graeme quickly grew a thick skin...might have been with the help of the licks he got for coming in late night after night.
Defense is the best offense
After sharing some memories about his family, he shared his experience of playing collegiate hockey at RPI (Rensselaer Polytechnic Institute) after being a top recruit throughout high school ; #2 in North America as a matter of fact. Now Graeme is like 6'4, over 200 pounds with a stocky build so just imagine him as a young dude in the prime of his athleticism. He remembers being warned before going away to school about racism but Graeme made it a point that he would be willing to fight to defend his honour. To his surprise, many people he encountered became lifelong friends and his experience was mostly pleasant throughout his hockey career. But that doesn't mean, he didn't have his fair share of racist jokes by teammates, taunting fans and direct confrontation with bigots. We've heard these stories across all sports... crowd shouting derogatory words and throwing banana peels on the ice. These are just a few of the stories he told about the many battles he had playing hockey and constantly having to defend himself because of his race. However, it was his tough upbringing and extremely competitive nature that gave Graeme the confidence in who he was as a person; something he learned at a young age. From there, Graeme never ever backed down and made it a point to antagonize all the bullies and racists he encountered....our very own batman of sorts!

I guess having to defend himself constantly in real life, gave him the motivation he needed on the ice. Graeme led all RPI defensemen in scoring and was one of the top scoring defensemen in the ECAC as a Junior. He later became the captain of his team in his sophomore year due to his work ethic and leadership. He finished out his career at RPI by scoring 22 points and played for the Maine Mariners in the AHL, a development league team for the Boston Bruins. With that, Graeme got called up to the big leagues just after 1 year, and played his first NHL game for Boston Bruins in 1989-90 season, becoming the first Jamaican born player in the NHL. Not only that, he was part of a small group black players in the NHL, just over 30 years after Willie O'ree broke the color barrier for the same team. Townshend played 686 professional games, scoring 227 goals and 208 assists for 435 points while playing in the NHL, AHL, IHL, and WPHL. After his amazing pro career, Graeme coached pro hockey and later became a development coach for the San Jose Sharks & skating coach for The Maple Leafs, making him one of the only skills coaches to have played, taught and coached at every level of hockey.
The Legacy Continues
Nowadays, Grame is focused on developing young hockey players, especially Black youth who may not have the resources to play the sport. Through his hockey program, Townshend Hockey, Graeme continues to give back to the sport and his community through training, skills development, mentorship, & camps were players from all across North America come to learn from him. He is constantly creating opportunties for the next generation of hockey players and passing all the knowledge he has acquired through his hockey career down to those who need it most.

This is why we presented Graeme with an Africville Seasides Limited Edition Hooded Hockey Jersey because he embodies that same legacy of the Colored Hockey League - defying the odds, achieving success, and giving pouring back into the community. Over century later, we must continue to celebrate people like Graeme who are building an even bigger legacy through sport and activism. Thank you Graeme for all that you do for hockey and for the community. Show Graeme some Love.